Back to top
Ramon Margalef Summer Colloquium
The RMSC have been running yearly since 2013 and are addressed to recent PhDs and advanced graduate students from all over the world. The colloquia aim to promote networking between experienced and young promising researchers interested in ecology. The RMSC are inspired by the scientific legacy of Ramon Margalef (Barcelona, 1919-2004). 
Since this summer 2019 is the 100 anniversary of Ramon Margalef's birth, we want to honor his holistic approach by presenting an exciting program addressed to students interested in ecology, modelling and global biogeochemical cycles. Under the motto "A cross-system view of biogeochemical cycles: drivers and players", the 2019 Colloquium aims at promoting creative thinking by bringing together ecological knowledge from experts on terrestrial, limnetic and marine systems. Through cross-system discussions organized by the students, the analogies and disparities concerning the ecology and functioning of aquatic and terrestrial ecosystems will be highlighted. The following topics will be covered over the week (detailed program, coming soon):
Topic 1. Organic matter production: nutrients and light should meet (primary producers in different scenarios of terrestrial and aquatic ecosystems)
Topic 2. Life strategies and physiological adaptations for optimizing nutrient acquisition
Topic 3. Nutrient and organic matter remineralization in different scenarios of terrestrial and aquatic ecosystems
Topic 4. The regulation of organic matter stoichiometry
Topic 5. Carbon sequestration efficiency in land and aquatic systems
We believe this 7th Colloquium will be an excellent opportunity to foster collective learning through discussions on the relevance of an interdisciplinary perspective in ecology and biogeochemistry. We expect to attain this important goal combining research lectures with dynamic discussions and exchange of ideas.
Confirmed speakers:
Robert Sterner, Large Lakes Observatory, University of Minnesota Duluth, USA
Anna Sala, Division of Biological Sciences, University of Montana, USA
Gerhard Herndl, Dept. of Limnology & Bio-Oceanography, University of Vienna, Austria
Rafael Marcé, Resources and Ecosystems Area, Institut Català de Recerca de l'Aigua (ICRA), Spain
Richard Bardgett,  School of Earth and Environmental Sciences, University of Manchester, UK
Dolly N. Kothawala, Dept. of Ecology and Genetics, Limnology, Uppsala University, Sweden
Jordi Catalán, Centre de Recerca Ecològica i Aplicacions Forestals (CREAF-CSIC) and Universitat Autònoma de Barcelona (UAB), Spain
Josep Peñuelas, Centre de Recerca Ecològica i Aplicacions Forestals (CREAF-CSIC) and Universitat Autònoma de Barcelona (UAB), Spain
Eugenia Martí, Centre d'Estudis Avançats de Blanes (CEAB-CSIC), Spain
Manuel Villar,  Dept. de Ecología, University of Granada, Spain
Beatriz Mouriño, Grupo de Oceanografía Biológica, University of Vigo, Spain
Scientific Committee:
Cèlia Marrasé, Marta Sebastián, Pedro Cermeño, Josep Peñuelas, Carles A. Gracia, Andrea Butturini & Andrea G. Bravo
Organizing Committee:
Cèlia Marrasé, Marta Sebastián, Pedro Cermeño, Caterina R. Giner & Maria Ferrer-Bonet
Sponsors: 

STUDENT REQUIREMENTS
The course aims at advanced doctoral students in Oceanography, Biology, Environmental Science, Physics, Ecology, biogeochemistry or related topics, who have completed most of their course requirements, and young scientists who have recently completed their doctoral degree. Prospective students must submit an abbreviated CV (maximum 2 pages) and a short statement (maximum one page) explaining why they are interested in participating in the Colloquia and how they think it will benefit their research. The Academical Committee will make the final selection based on curricular merits and motivation statements.
REGISTRATION
There is a 460€ (euro) fee per person which includes all educational and scientific activities as well as the ice-breaker event, one ice-break-meal and the closing dinner. The fee does not include the accommodation or meals expenses which need to be taken care individually. Reduced fees: members of the Sociedad Ibérica de Ecología (SIBECOL) will have a reduced fee (400 €).  
A maximum of 30 participants will be accepted. Prospective participants should request admission through this form. Applications will be accepted until July 15th, 2019. Accepted participants are expected to pay the admission fee no later than July 31st, 2019.
Students not paying at this time will be replaced by a student from the reserve list. The final list of participating students will be published by August 2nd, 2019. The students will be structured into 5 groups (one group per topic), with a lecturer and assistant providing support to each group. Instructions will be provided for lecturers and students to prepare their working group for the colloquium. If you have any question, contact us: ramonmargalefcolloquia@sibecol.org
ACCOMMODATION
Student Residential Housing:
– La Ciutadella
– Campus del Mar
– The Student Hotel
– Residencia ONIX
All of them are well located, less than 10-minute walk to the city center or to the Institute of Marine Sciences. The participants may choose between single or double bedrooms, with or without air-conditioning. All rooms are equipped with kitchen, and lodgement includes bed linen, towels and internet Wi-Fi. Check the prices directly with the residence.
– At this link, you'll find more variety of accommodation.
– Another option a bit far from the Institute.
We encourage interested students to make their own reservations well in advance.
LOCATION AND CONTACT
Barcelona is one of the most attractive cities in Europe and the World. Its wonderful weather and privileged location by the sea, the numerous architecture styles (modernist, gothic, medieval, romanesque, roman) and its beautiful surroundings, together with the many international events and exhibitions and the never-ending cultural proposals, attract visitors from all over the world. In addition, please notice that the "2019 Merce Festival" will take place in Barcelona from the 20thto the 24th of September. This festival accounts for outdoors live music concerts, light and visual shows on the streets and fireworks among other events. For more information go to https://irbarcelona.org/traditions-festivals/la-merce-festival/
The Summer Colloquium will be held at the Institute of Marine Sciences (ICM), the largest Spanish centre for the study of Marine Sciences. ICM has a permanent staff of more than 60 researchers, with well-recognized scientists on the fields of Biological, Chemical and Physical Oceanography. It is located near downtown Barcelona, right by the beach and besides a city harbour. It has excellent field, laboratory and classroom facilities. Additionally, there are several nearby student residences which are available for the summer university-vacation period, where the participants of the colloquium will be able to lodge.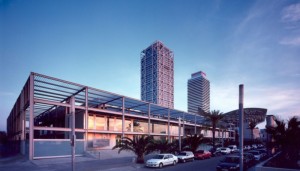 How to get there?
ICM is located in Barcelona's Barceloneta District between the Hospital del Mar and the Olympic Towers. To reach ICM, you can use:
– Bus: lines D20, V21, V27, 36, 45, and 59 have a bus stop a few meters from the ICM.
– Underground (Metro): The L4 line (yellow line) has a station (Ciutadella-Vila Olímpica) 300 metres from the ICM. 
– Google Maps
If you come from outside Barcelona by:
– Car: Use the Ronda del Litoral. Towards Besós (north) take exit 21. Towards Llobregat (south) take exit 22.
– Train (RENFE): Get off at one of these stations: Sants Estació, Clot, Passeig de Gràcia. And take the underground L4 line (yellow line) to Ciutadella-Vila Olímpica station.
– Train (Ferrocarrils de la Generalitat, FGCC): Get off at Plaça Catalunya station, and take the 59 bus or the underground.
– Airplane: Directly from the Airport (El Prat) you may take a train, bus or taxi.
Contact us at: ramonmargalefcolloquia@sibecol.org
WHO WAS RAMON MARGALEF?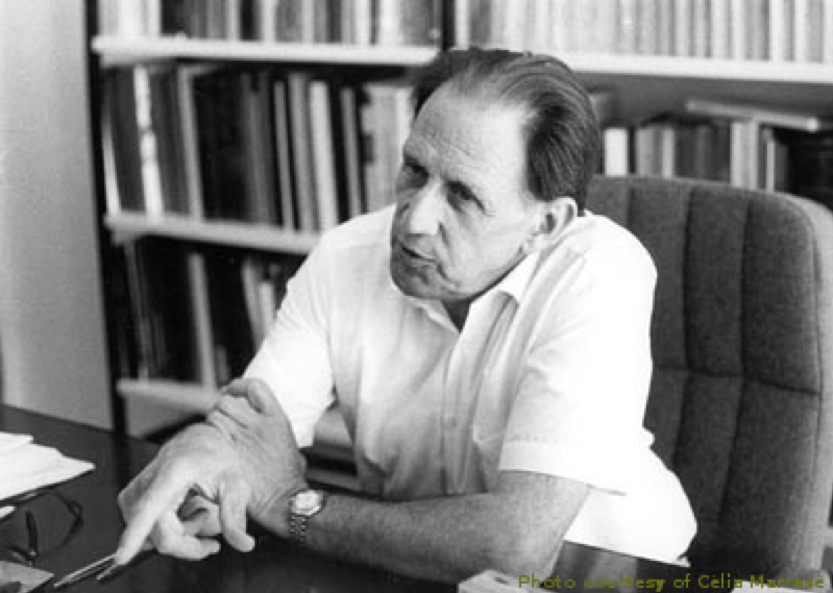 The Colloquia are inspired by the figure of Ramón Margalef (Barcelona, 1919-2004), who worked for many years in the Institute of Marine Sciences and the University of Barcelona. He was one of the founders of modern ecology and very often applied his ideas to the marine environment. He broke old paradigms and contributed to science with innovating theories about the space-time structure of the ecosystems, the relations between diversity, biodiversity, stability and connectivity, the fundamental paper of energy in the biological productivity and the interrelations between ecological succession and evolution. He wrote around 400 papers and books including, "On certain unifying principles in ecology", "Perspectives in Ecological Theory", "Information Theory in Ecology", "Our Biosphere". Margalef was not only a brilliant scientist but also an encouraging teacher and mentor.
Margalef recognized the importance of the physical environment to understand the behavior of species and ecosystems, and this tradition has continued for many years within the Institute of Marine Sciences. We believe these Colloquia will be an excellent opportunity to foster lectures and discussions on the relevance of a cross-system perspective in Ecology.